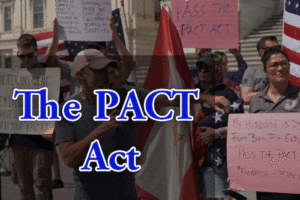 Starting on January 1st, 2023, the VA will begin processing all VA Disability Claims for PACT Act benefits.
The PACT Act was signed into law on August 10th, 2022. The Act makes a number of changes to the toxic-exposure VA Presumptive Lists, most notably adding 24 conditions to the Burn Pit Exposure List.
The PACT Act ordered that claims processing for veterans and survivors who now qualify for benefits under these changes be phased-in gradually until 2026.
The VA, however, decided that all veterans and survivors deserve these benefits as soon as possible. Since August, the VA has already received more than 210,000 PACT Act claims and has been rushing to get the manpower and infrastructure in place to start processing all of these claims.
The VA announced today that they are ready to process all PACT Act claims starting January 1st with an effective date of August 10th, 2022 for most PACT Act claims filed before August 10th, 2023.
In addition to expanding disability benefits for toxic-exposed veterans, the PACT Act has also expanded healthcare eligibility, further developed toxic exposure research, and instituted toxic-exposure screenings for all veterans.
If you have not yet submitted your PACT Act claim, go ahead and do so now so that you can start receiving these benefits as soon as possible.