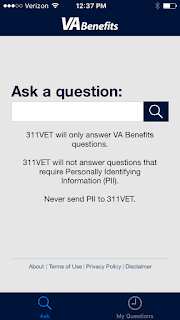 The Veterans Benefits Administration (VBA) has launched a new phone app called 311VET. Available for both iOS and Android phones, 311VET offers information about most VA benefits: pensions, disability, health care, education, etc. 311VET cannot answer any questions about claims status or that require personal health or identification information.
The VBA recommends that, if you can't find the answer to your benefits question online or through the call center, you download the app and submit your question. You can also text your question to 311838. If your question has been asked before, it will be in the database and you will receive an immediate computer-generated response. If it's not in the database, it goes to an actual human who will find the answer for you, which can sometimes take a while.
Sounds great, but how well does 311VET actually work? We put it to the test.
We started with a very general question, "How do I apply for disability benefits?" and got an instant response which referred us to the VA website. Most common knowledge questions generated similar responses. Ultimately, we could have skipped a step and just gone to the website.
When we moved on to more specific disability questions, the responses took longer (so we assume that meant the question went to a real person) but were still very generic. For example, we asked, "I am going through the retirement process right now. What medical benefits will I be able to access when I'm retired? I have hearing loss from working on jet engines." The response took a little over 4 minutes (our quickest response time for a health-related question) and told us that we could file a new claim, and then we were again referred to the VA website. Didn't even answer the question.
One of our next questions, "I have a shoulder injury and can't raise my arm more than 45
°
from my side. Am I entitled to disability benefits, and what would the VA rate my injury?" took a little over 5 minutes to receive an answer that was generic and referred us to the website (which isn't going to help at all since the info on their website can't even answer this question).
A few questions later, we asked, "What evidence or specific tests do I need to submit with my claim for a service-connected shoulder injury?" The response took over 20 minutes and stated "311VET doesn't have specific info on evidence or tests needed for disability claims…." We were then referred to the VA website.
One additional drawback to this app you should know about: there is no indication that your answer, if it's not an instant computer-generated one, has been received. You must keep checking and refreshing until it shows up, kind of a pain when it took over 20 minutes.
Overall, based on our admittedly limited trial, 311VET will give very generic answers to general questions, then refer you to the VA website for more information. If you have a very basic question and want to avoid having to search their website for answers or use the call center, then 311VET can probably help. If, however, you are seeking more specific information relating to your disability and the disability system, then this app won't fulfill your need.
We, of course, do have full, detailed information on the entire disability system on our
website
. Plus, if you
Contact Us
, we will give you very personalized, detailed responses to your questions, although we do by necessity have a much longer turn around than even the 20 minutes.