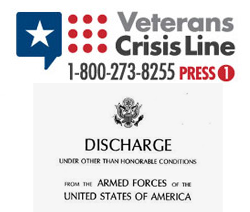 In a historic move, VA Secretary David Shulkin testified before the House Veterans Affairs Committee on March 7, 2017, that he intends to open up urgent mental health care to former service members with Other Than Honorable (OTH) discharges who are in crisis. This is the first time that an initiative which is focused on providing mental health assistance to OTH service members has been put into place by a VA Secretary.
VA officials emphasize that veterans' mental health issues are a significant concern.
"The President and I have made it clear that suicide prevention is one of our top priorities," Shulkin said. "We know the rate of death by suicide among Veterans who do not use VA care is increasing at a greater rate than Veterans who use VA care. This is a national emergency that requires bold action. We must and we will do all that we can to help former service members who may be at risk. When we say even one Veteran suicide is one too many, we mean it…. Our goal is simple: to save lives," Shulkin continued. "Veterans who are in crisis should receive help immediately. Far too many Veterans have fallen victim to suicide, roughly 20 every day. Far too many families are left behind asking themselves what more could have been done. The time for action is now."
Of those 20, roughly 14 are not enrolled in VA healthcare. Many of those are combat veterans who received their OTH discharges because of misconduct related to a traumatic brain injury or PTSD, making them ineligible for VA healthcare.
Secretary Shulkin will be meeting with DoD officials, Congress, and Veterans Service Organizations to figure out the best ways to get help to former service members with OTH discharges. As part of the proposed plan, OTH service members will be able to receive treatment at a Vet Center, a VA Emergency Room, or by calling the Veterans Crisis Line.
As part of their ongoing efforts to treat veterans in mental health crisis, the VA has made significant changes to the Veterans Crisis Line, adding new counselors, opening new facilities, and improving response time. The Veterans Crisis Line is a valuable, effective resource for those who are struggling.
In addition, the VA has implemented programs such as #BeThere and REACH VET (seeour article from September 6, 2016 for more information) to help people reach out and help identify veterans who may be in crisis.
The resources listed below are available to ANY veteran or service member. You do NOT need to be registered or enrolled with the VA to use these services.
– The Veterans Crisis Line is available 24 hours a day. You may call 1-800-273-8255 and then press 1, you can text 838255, or chat online at
VeteransCrisisLine.net/Chat
.
– The Veterans Center Combat Call Centers are also available 24/7 to combat veterans or service members serving in a combat area. These call centers are staffed by other combat veterans. Call 1-877-WAR-VETS (927-8387).