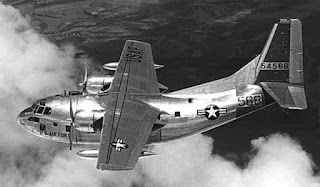 As of June 19, 2015 service members and reservists who served on contaminated C-123s from 1969 to 1986 are now able to qualify for VA Disability if they have developed one of the conditions on the VA Presumptive List for Agent Orange exposure.
This is a much-awaited change that we are very glad to finally see in place. After the Vietnam War, between 1,500 and 2,100 Air Force members and reservists were repeatedly in contact with the C-123s that had been used to deliver Agent Orange during the war.

Many of these people have since developed conditions that are known to be connected to Agent Orange exposure, but all their VA Disability Claims for compensation have been denied since the VA's policy required service in Vietnam itself (or Korea) during the war.
This policy change came after a long campaign that resulted in a formal study done by the Institute of Medicine. The Institute determined that those who had "regular and repeated contact" with the planes were most likely exposed to enough Agent Orange residue to cause "adverse health consequences."
The study provided enough evidence to convince the VA to change their Agent Orange policy to include any service member or reservist who had "regular and repeated contact" with one of these planes. This includes the flight crews, the ground maintenance crews, and the aero-medical personnel who worked on these planes.
The reservists who served on these aircraft can also use their conditions caused by Agent Orange to qualify as veterans. To be considered a full veteran, and thus eligible for all VA Disability Benefits, a reservist must have been disabled while in active service. The VA now accepts the development of any of the presumptive conditions for Agent Orange in these reservists as proof that they developed a disability while in active service and thus qualify as veterans.
If you served on one of the contaminated C-123 aircrafts, you now fully qualify for VA Disability compensation if you have since developed one of the conditions on the VA Presumptive List. To receive your benefits, simply submit a new VA Disability Claim. Make sure to include proof that you did serve on a C-123 in one of the capacities noted above, and you should be good to go.