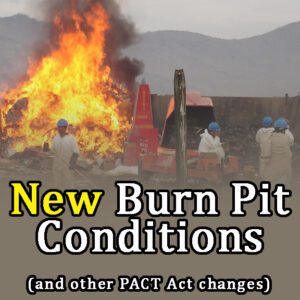 Last week, the Honoring our Promise to Address Comprehensive Toxics Act of 2021 (known as "Honoring our PACT Act of 2021") was signed into law by the President.
The purpose of the PACT Act is "to improve health care and benefits for veterans exposed to toxic substances, and for other purposes."
We discussed all of the changes the PACT Act will now instigate in a previous article (including changes to health care eligibility, various research efforts looking into the effects of toxic exposure, improved training for VA employees dealing with any aspect of a toxic exposure claim, etc.), but the most ground-breaking changes have occurred in the VA Presumptive Lists.  
Changes to the Agent Orange Presumptive List
For Agent Orange Exposure, more veterans are now able to claim conditions based on additional service locations and periods. 
All veterans who served in the following locations during the periods indicated are now eligible to claim Agent Orange exposure:
Thailand on a US or Royal Thai base (between January 9, 1962 and June 30, 1976)
Laos (between December 1, 1965 and September 30, 1969)
Cambodia at Mimot or Krek (between April 16, 1969 and April 30, 1969)
Johnston Atoll (between January 1, 1972 and September 30, 1977)
Guam or American Samoa (between January 9, 1962 and July 31, 1980) 
The end date for service in Vietnam has also be extended to May 7, 1975. 
Finally, two conditions have been added to the Agent Orange List:  hypertension and monoclonal gammopathy of undetermined significance.
Changes to the Radiation Exposure Presumptive List
For Radiation Exposure, the list has been expanded to include veterans who participated in cleanup activities or nuclear responses in the following locations during the periods indicated:
Palomares, Spain (between January 17, 1966 and March 31, 1967)
Thule, Greenland (between January 21, 1968 and September 25, 1968)
Enewetak Atoll (between January 1, 1977 and December 31, 1980) 
Changes to the Burn Pit Presumptive List
By far, the most changes have been made to the Burn Pit Exposure List. This list has been expanded to include veterans who served in the following dates and locations:
Bahrain, Iraq, Kuwait, Oman, Qatar, Saudi Arabia, Somalia, or the United Arab Emirates on or after August 2, 1990
Afghanistan, Djibouti, Egypt, Jordan, Lebanon, Syria, Yemen, Uzbekistan, or the Philippines on or after September 11, 2001
The following 24 conditions have also been added to the list: 
asthma
chronic bronchitis
chronic obstructive pulmonary disease
constrictive or obliterative bronchiolitis
emphysema
granulomatous disease
interstitial lung disease
pleuritis
pulmonary fibrosis
sarcoidosis
chronic sinusitis
chronic rhinitis
glioblastoma
head cancer
neck cancer
respiratory cancer
gastrointestinal cancer
reproductive cancer
lymphoma cancer
lymphomatic cancer
kidney cancer
brain cancer
melanoma
pancreatic cancer
Changes to the Persian Gulf Presumptive List
For Persian Gulf veterans, veterans who served in Afghanistan, Israel, Egypt, Turkey, Syria, or Jordan have been added to the list of eligible countries in Southwest Asia. 
Also, the conditions on this list are now no longer required to manifest to a certain severity within a certain time frame. Instead, they now qualify if they manifest "to any degree at any time." 
Receiving PACT Act Benefits
So what do you do if you now qualify for benefits under the new PACT Act? 
If you submitted a claim before but it was denied, you can have your claim reopened by submitting a Supplemental Claim.
If you have not yet claimed benefits now covered by the PACT Act, you can do so by submitting a new claim. 
It is important to submit your claim as soon as possible to ensure that you receive the maximum benefits. While the VA won't be processing PACT Act benefits until January 2023 since they have to wait for Congress to approve funding, they will make the effective date the date of the bill signing (August 10, 2022), or another effective date specified in the law, if you submit your claim promptly.