The Eyes
Topics:
---
The Eyes Overview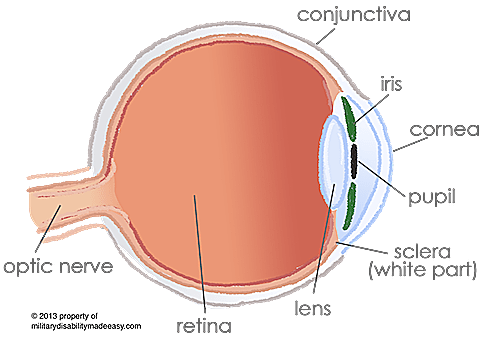 The VA awards disability compensation for each Eye condition that is service-connected. The DoD will also rate service-connected Eye conditions as long as they also make the service member Unfit for Duty. For Reservists, the Eye condition must have occurred in or resulted from an injury in the Line of Duty to qualify.
The Eye is a complex sensory organ consisting of many layers that combine together to create a vast network of sensors that enable three-dimensional sight. Our quality of vision is determined by how well our eyes can focus on an image (visual acuity), how well the muscles can control the movement of the eye, and the quality and extent of the visual range that can be seen (visual field).
Because of the complexity of the Eyes, the VASRD offers rating options that cover physical damage to individual parts of the Eyes, options that cover conditions affecting one, two, or all three areas of visual impairment (visual acuity, visual field, and muscle dysfunction), and options to rate on incapacitating episodes based on the number of treatments needed to treat the condition.
To honor the Pyramiding Principle, only a single rating can be given for multiple Eye conditions since it is basically impossible to separate the symptoms. In situations where multiple conditions are present, the Eyes will be rated using all of the symptoms combined together to reflect the overall functioning of the Eyes. Any exceptions to this rule will be noted directly in the code to which it applies (see The Eye Ratings page).
---
Eye Condition Ratings
The VASRD offers ratings for the following conditions of the Eyes:
If an Eye condition is not directly listed, it is rated under the code that best describes it or its dominant symptom.
In addition to or instead of the standard disability compensation for Eye conditions, the blindness in both Eyes or a single Eye when combined with other disabilities may also qualify for Special Monthly Compensation.