The Endocrine System

Topics:
---
The Endocrine System Overview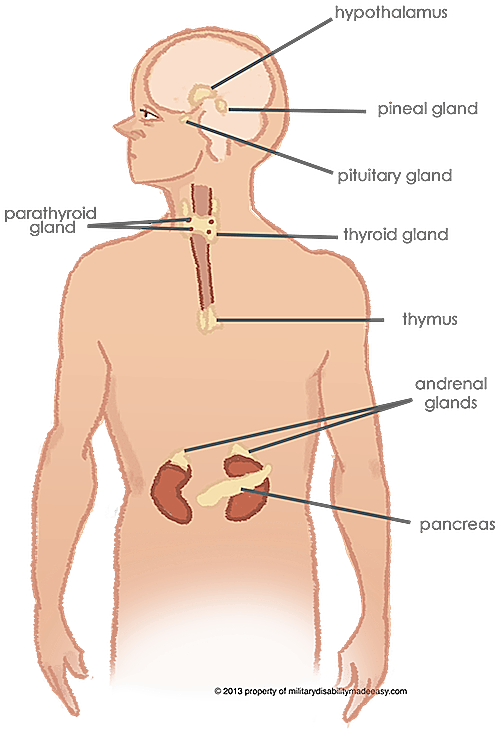 The VA awards disability compensation for each Endocrine System condition that is service-connected. The DoD will also rate service-connected Endocrine System conditions as long as they also make the service member Unfit for Duty. For Reservists, the condition must have occurred in or resulted from an injury in the Line of Duty to qualify.
The Endocrine System is a network of glands that create hormones to help regulate the body. These hormones control the growth of new cells and metabolism. Some organs, like the kidney, also help in producing hormones. The Endocrine System is made up of the hypothalamus, thymus, pituitary gland, thyroid gland, parathyroid glands, adrenal glands, pineal gland, reproductive glands (ovaries or testes), and the pancreas. All these parts work together to keep the body in balance.
To honor the Pyramiding Principle, only a single rating can be given for multiple Endocrine System conditions that cause the same symptoms. However, if multiple Endocrine System conditions exist, each clearly causing separate and distinct symptoms, then they can be rated separately. In most cases, multiple Endocrine System conditions will be rated using all of the symptoms combined together, and the VA will choose the single code they feel best covers the overall Endocrine System disability (see The Endocrine System Ratings page for further details).
---
Endocrine System Condition Ratings
The VASRD offers ratings for the following conditions of the Endocrine System:
If an Endocrine System condition is not directly listed on the Endocrine System Ratings page, it is rated under the code that best describes it or its dominant symptoms.
Ratings for conditions of the ovaries are included on the Female Reproductive System page, and ratings for conditions of the testes are included on the Genitourinary System page.
In addition to or instead of the standard disability compensation for Endocrine System conditions, complete loss of use of the reproductive organs may also qualify for Special Monthly Compensation.