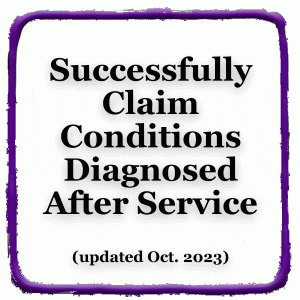 Have you developed a condition after discharge you think is the result of your military service?
In this 15-MINUTE VIDEO, we explore each way you can prove service-connection for conditions diagnosed after service and discuss all of the evidence you need to submit for a successful claim.
Discover conditions on the Presumptive List, secondary conditions, conditions caused by exposure, PTSD, hearing loss/tinnitus, and more!
This course was updated October 2023.
This video is FREE for All-Access Members and can be accessed through the All-Access Membership page. Not yet a member? Join Now!