The Central Nervous System
Topics:
---
The Central Nervous System Overview
The VA awards disability compensation for each condition of the Central Nervous System that is service-connected. The DoD will also rate service-connected conditions as long as they also make the service member Unfit for Duty. For Reservists, the condition must have occurred in or resulted from an injury in the Line of Duty to qualify.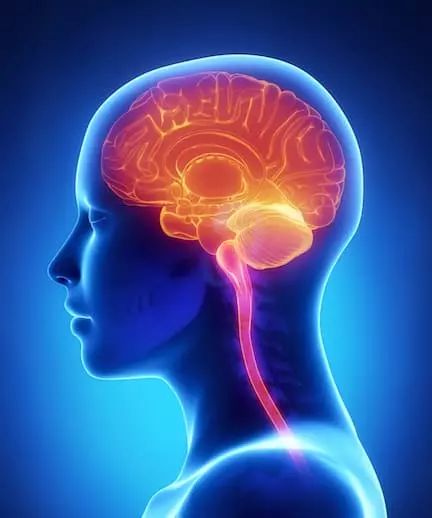 The nervous system connects the brain to the rest of the body. Impulses travel up the nerves and spinal cord to the brain, and the brain then turns these impulses into ideas like pain, heat, etc. Similarly, the brain can send signals through the nerves to various parts of the body, telling it to raise the arm, point the toes, expand the lungs to breath, etc.
The nervous system is divided into two parts: the central nervous system, and the peripheral nervous system. The central nervous system consists of the brain, the spinal cord, and the cranial nerves. The peripheral nervous system is made up of all the nerves that travel from the spinal cord to the rest of the body.
The majority of conditions of the Central Nervous System are rated on the symptoms that they cause. Because the Central Nervous System controls every function of the body, these symptoms could be vast and complex.
To honor the Pyramiding Principle, only a single rating can usually be given for multiple conditions of the Central Nervous System unless it is possible to clearly and distinctly separate the symptoms. In situations where multiple Central Nervous System conditions are present, separate ratings can be given as long as no symptom is rated twice and no single code can sufficiently cover the overall level of disability (see The Central Nervous System Ratings page).
---
Central Nervous System Ratings
The VASRD offers a general rating system for Central Nervous System conditions, as well as individualized ratings to properly cover the symptoms of specific conditions. Ratings are given for:
All Central Nervous System conditions not included in the VASRD is rated on the code that best describes the overall condition and/or best rates its symptoms.
In addition to or instead of the standard disability compensation for Central Nervous System conditions, conditions resulting in the loss of use of some body parts or abilities (like walking or speaking) may also qualify for Special Monthly Compensation.